Market directly to your customers with bottled water!
Using the patented SpinLabel™ rotating label design, SpinWater™ offers a unique and engaging marketing campaign that maximizes impressions and increases conversion rates.
Scan codes and data collection tools analyze user engagement and build your customer data base.
Secure an ad panel on a truck load of SpinWater™ which will be distributed for FREE!
HIGH-TRAFFIC LOCATIONS
TOURIST DESTINATIONS – RIDE-SHARE DRIVERS
EVENTS / FESTIVALS
SHOPPING CENTERS
SCHOOLS
AND MUCH MORE…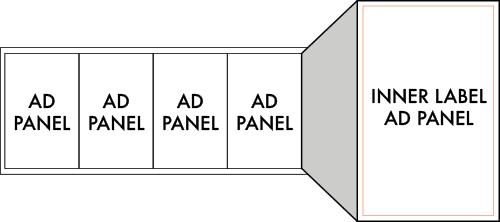 * Distribution locations vary.Please contact us for additional information.
Customize your very own SpinWater™ with a unique design of both the inner & outer labels.
SHOWCASE YOUR PRODUCTS / SERVICES
SELL AD PANELS AND TURN A MARKETING SPEND INTO A PROFIT CENTER
DISTRIBUTE TO YOUR CUSTOMERS AT EVENTS, TRADESHOWS, IN-STORE, ETC.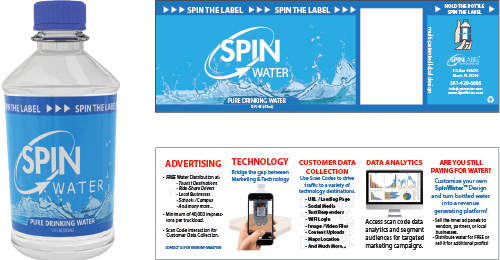 * Minimum orders & shipping vary by destination.Please contact us for additional information.
The increased label space provided by a SpinLabel™ offers additional benefits:
Scannable Codes
Image Recognition Software
Customer Data Collection
Augmented Reality (AR)
Direct Marketing Analytics
WiFi Login Scans
3D Lenticular Designs
Redeemable Coupons
Text Responder Triggers
Contests / Games
Links
Social Media Engagement
Products are packaged in many different shapes, sizes and container materials. In order to determine the best application of a SpinLabel™ system on your product follow this brief guideline and download the SpinLabel™ questionnaire for further technical details.